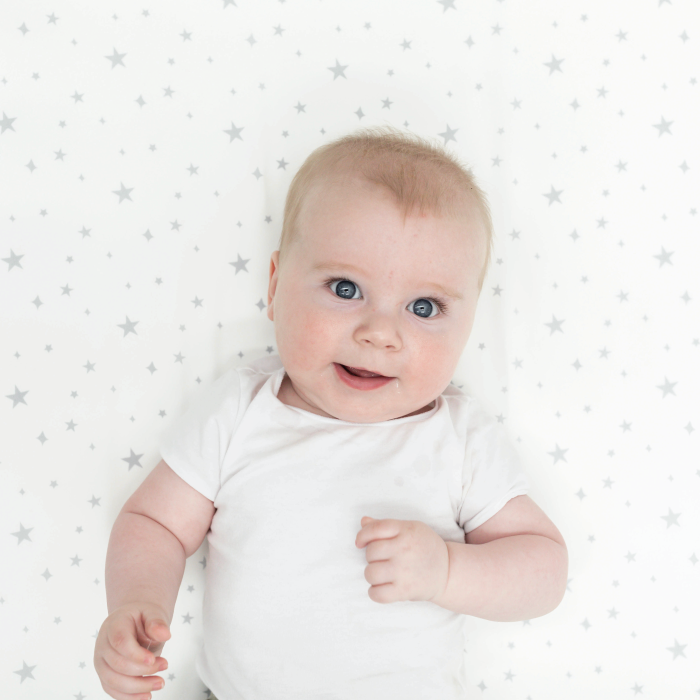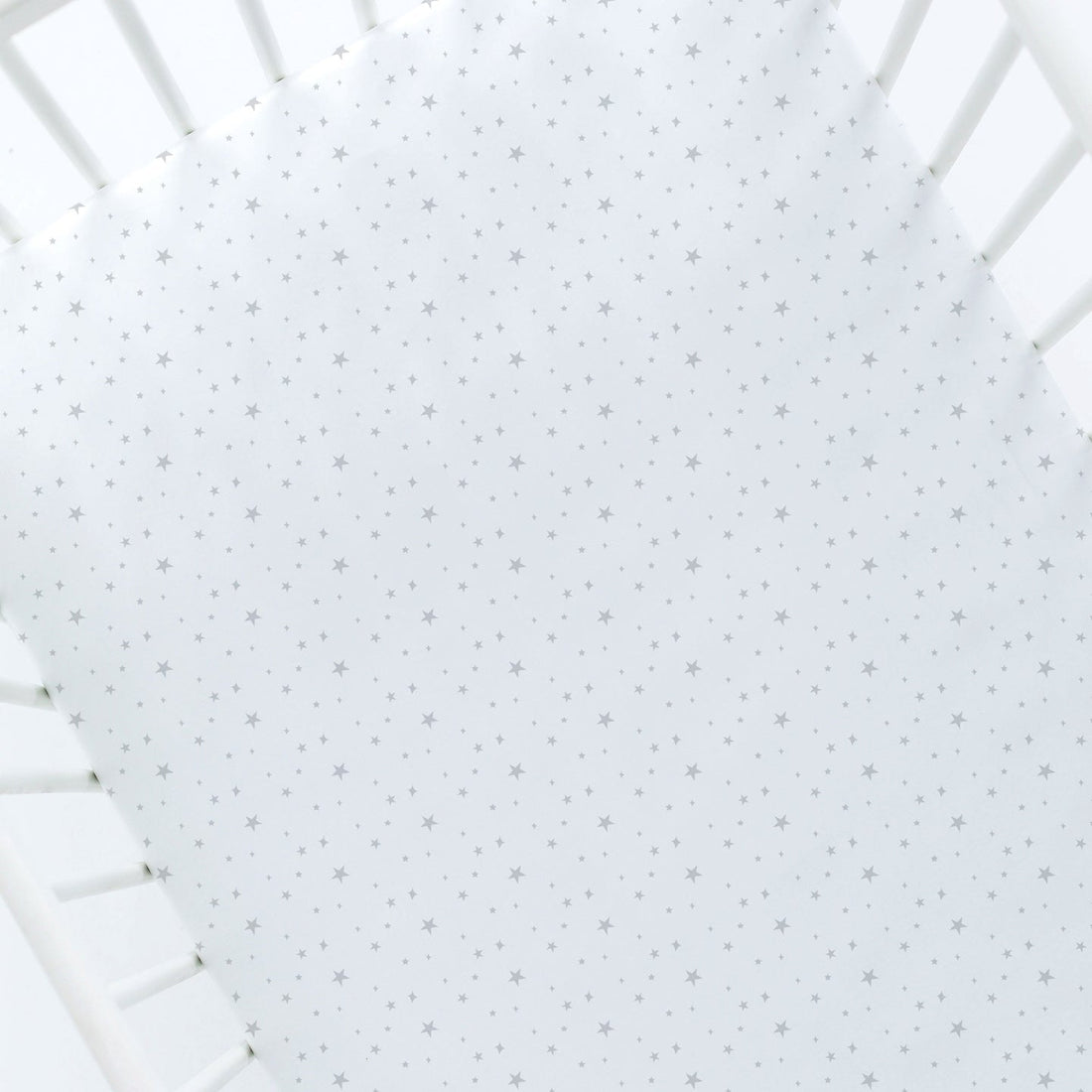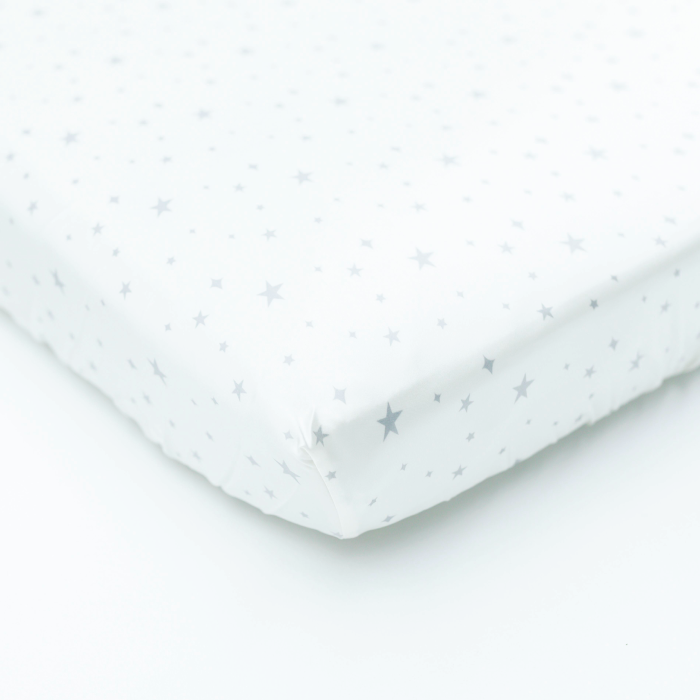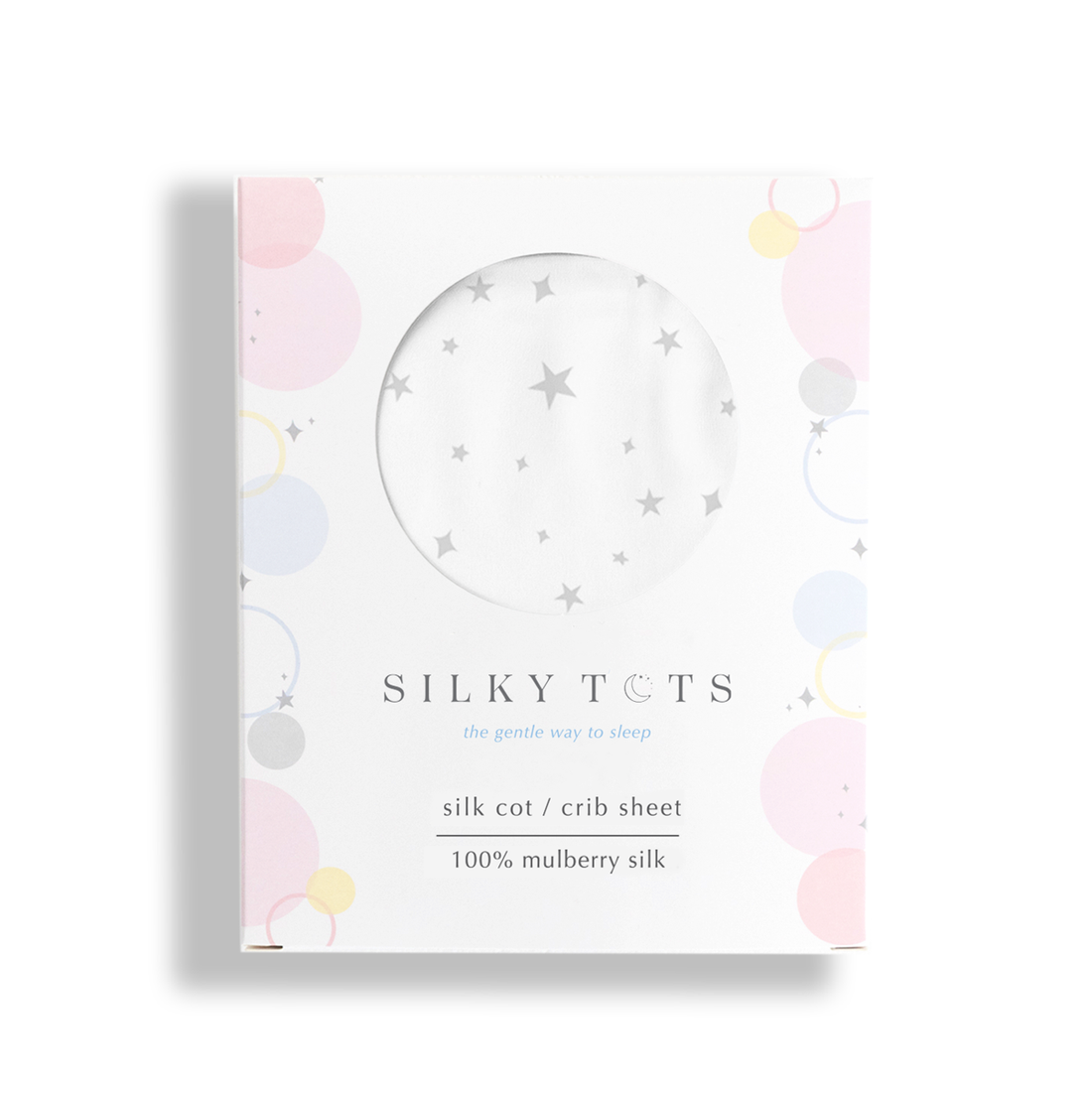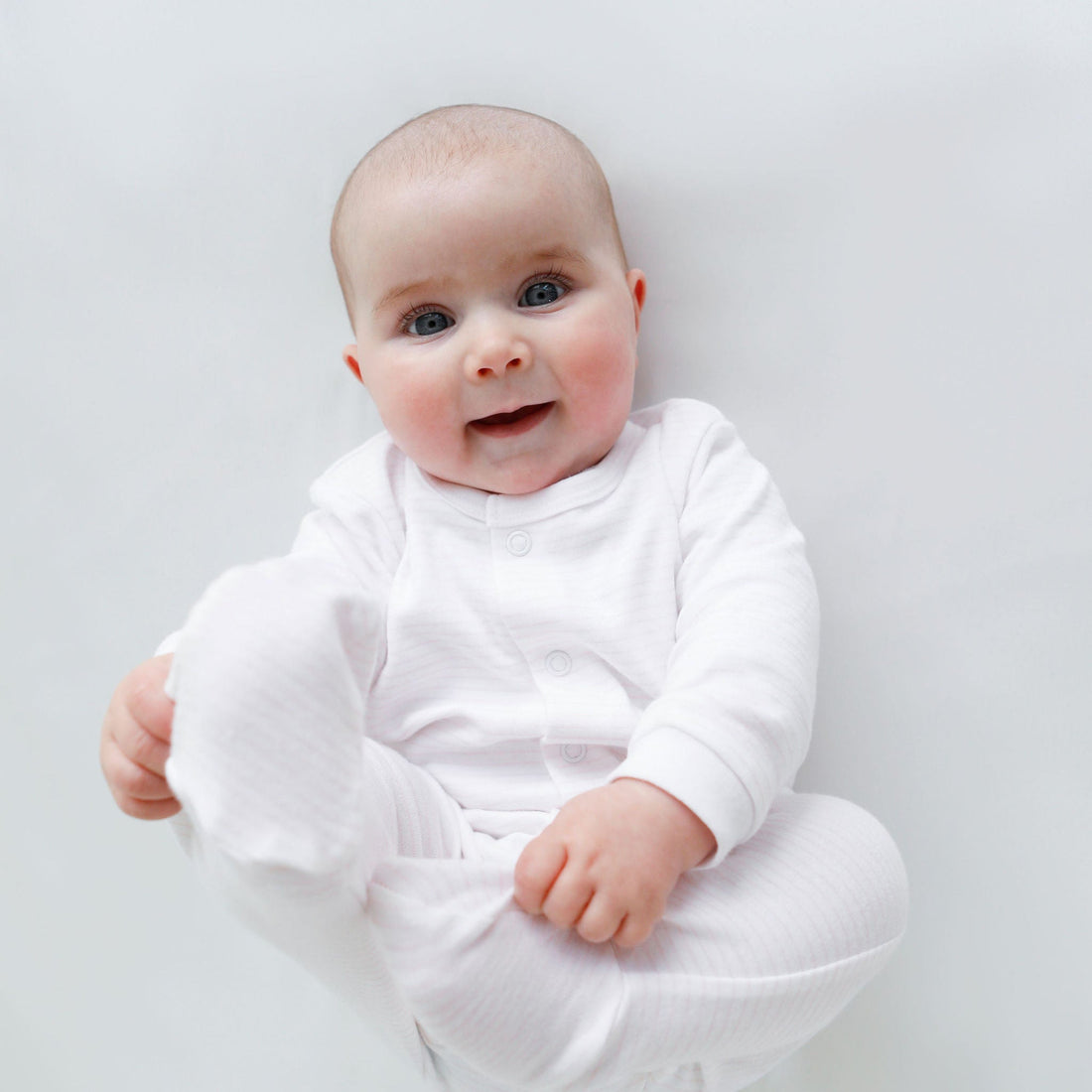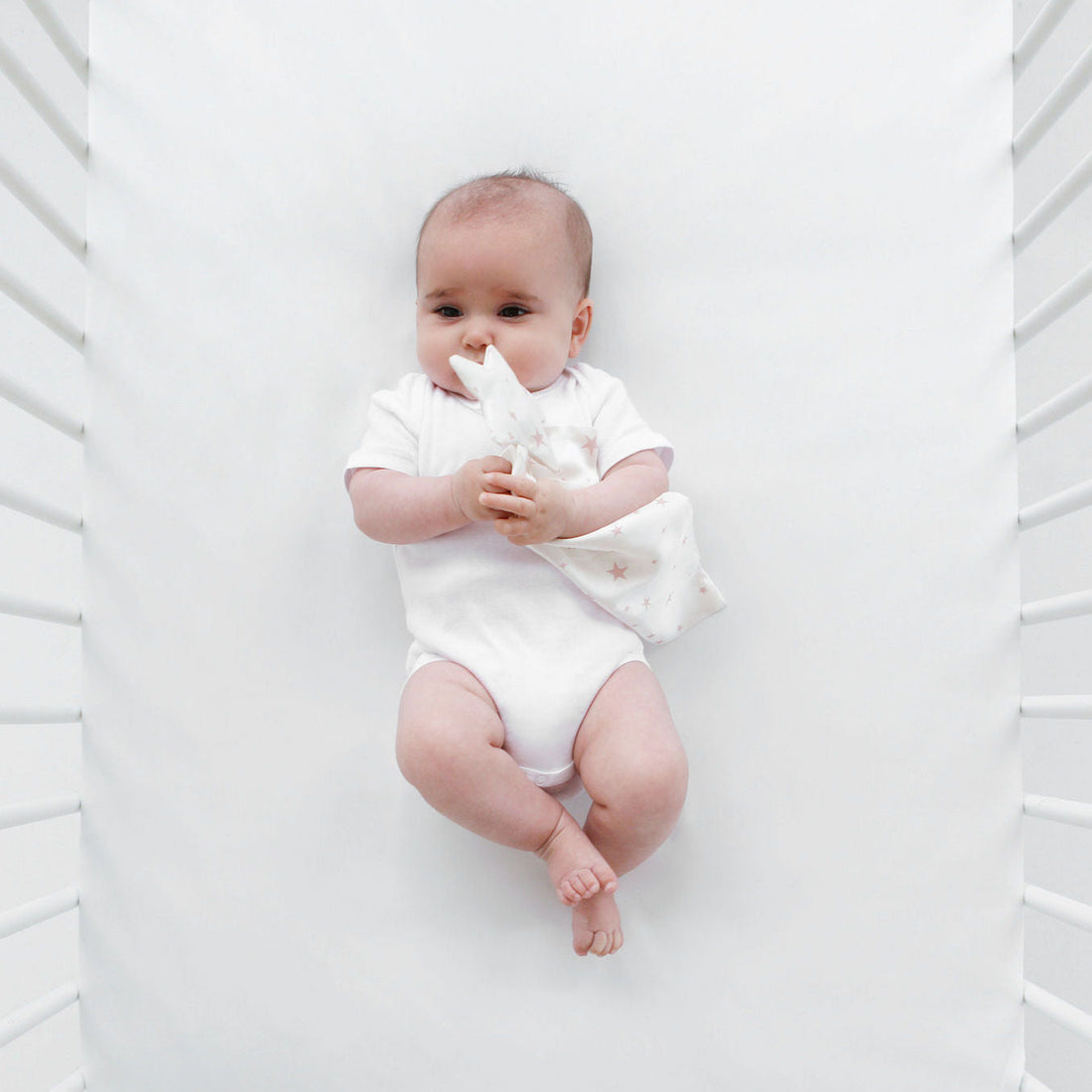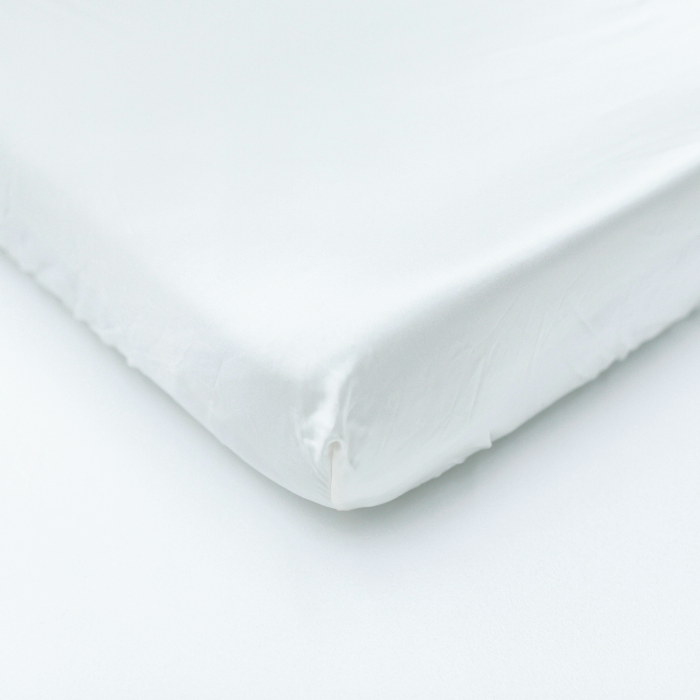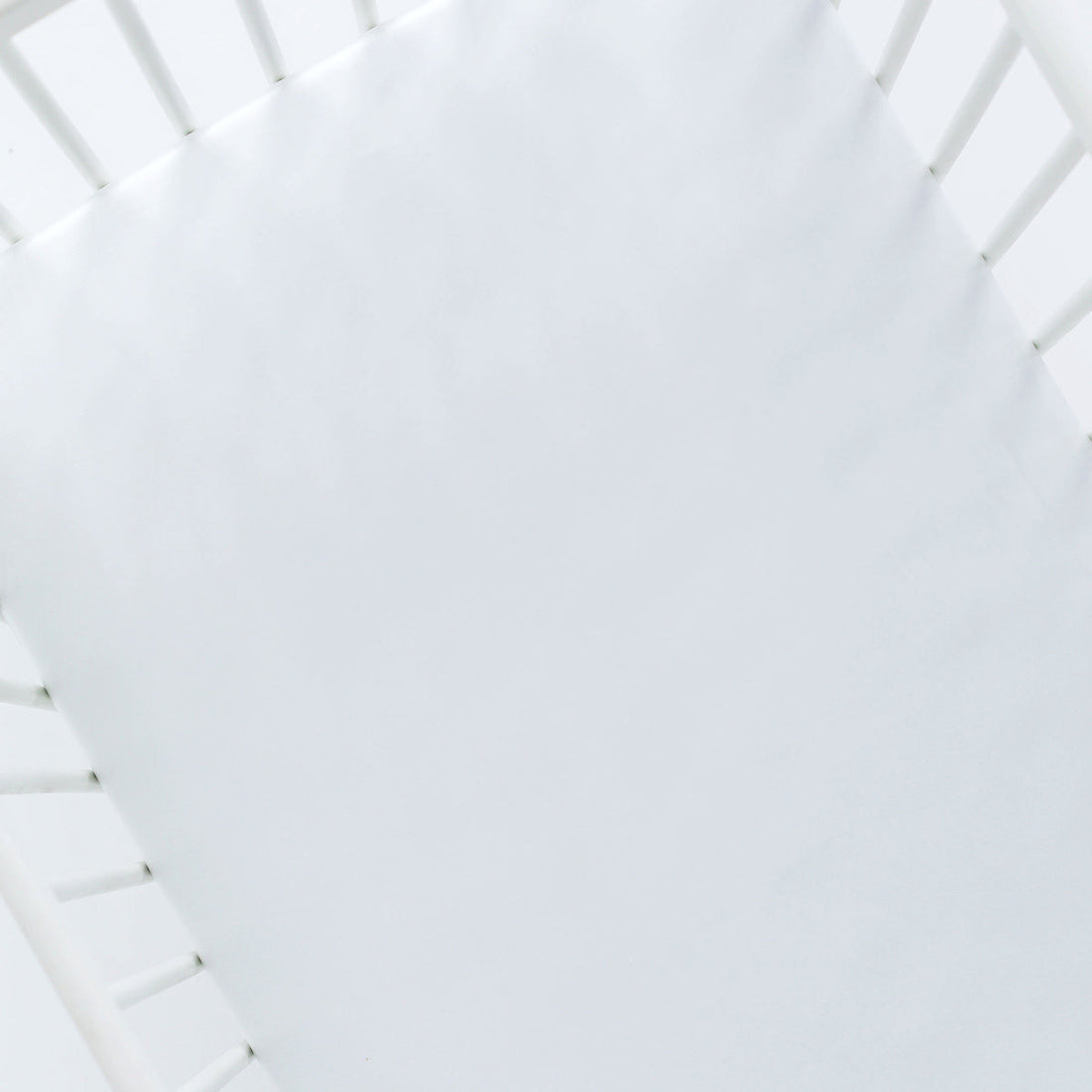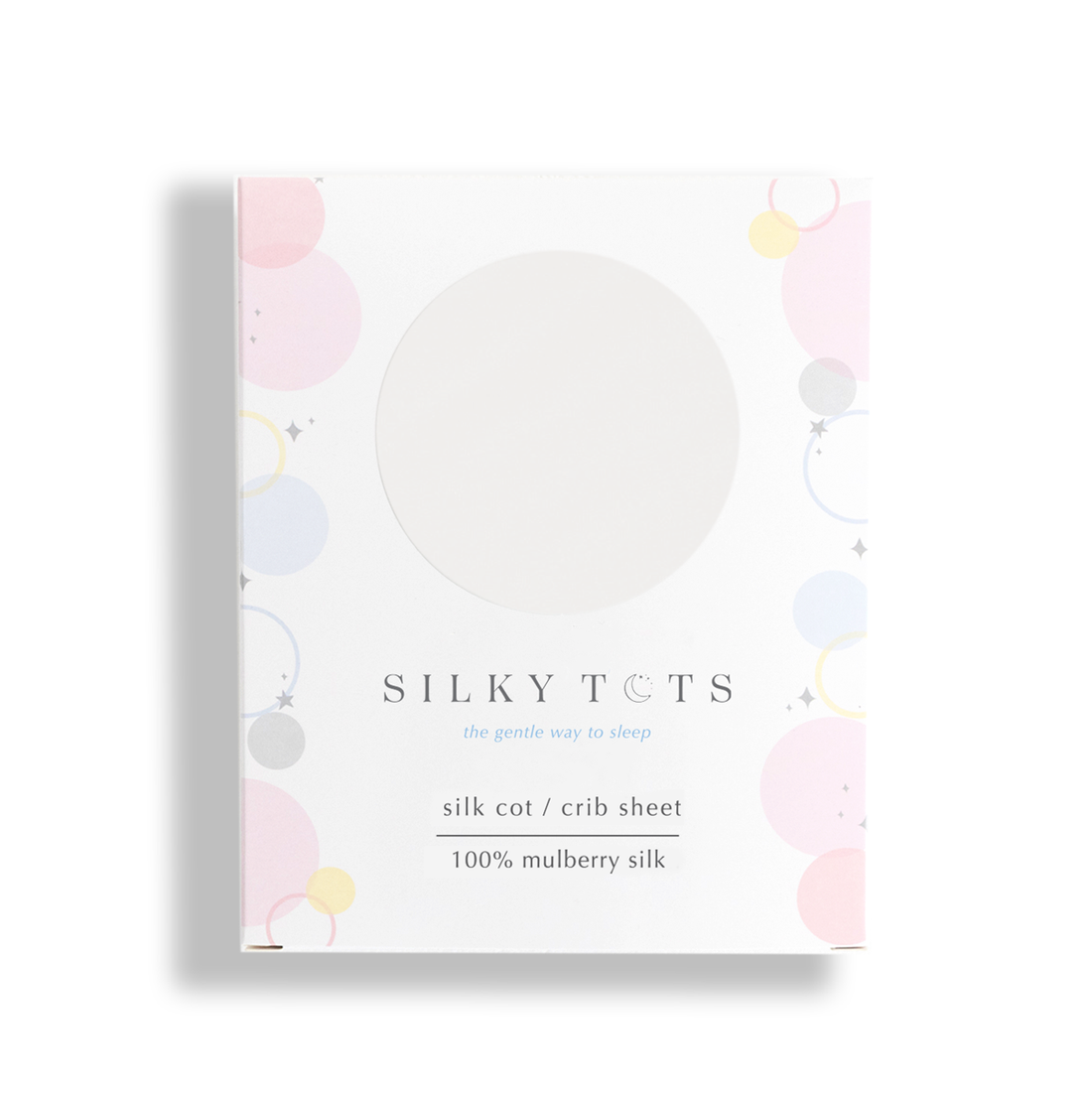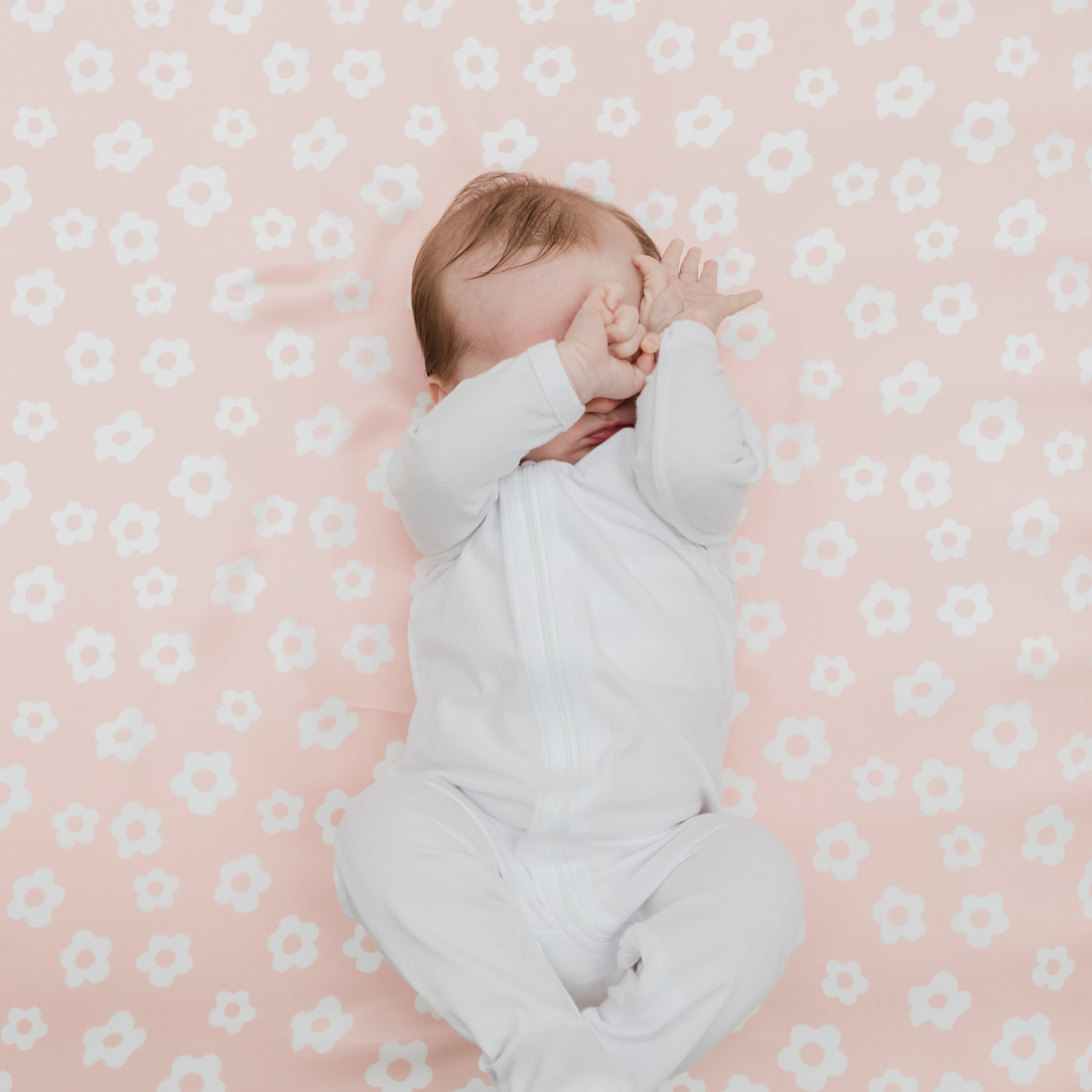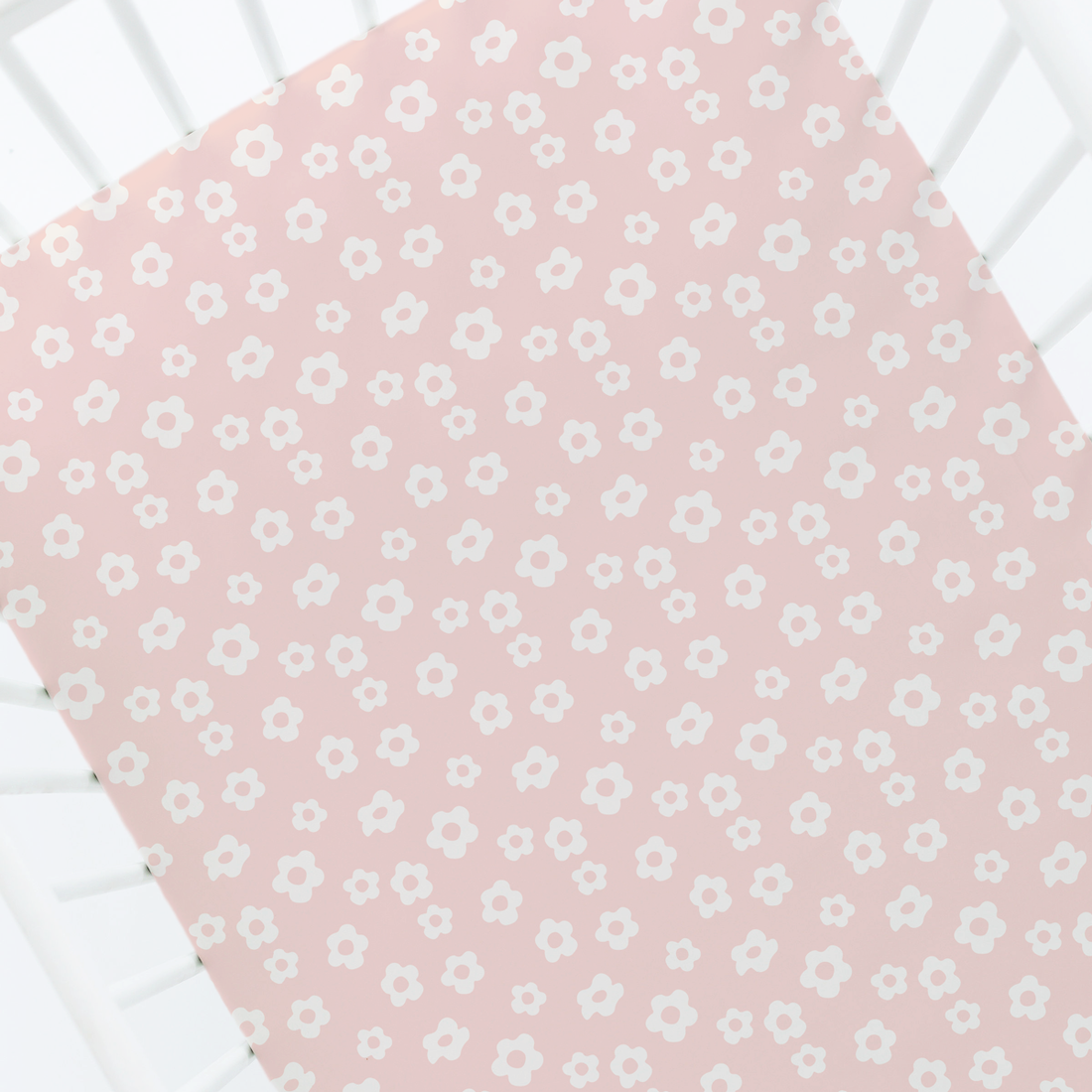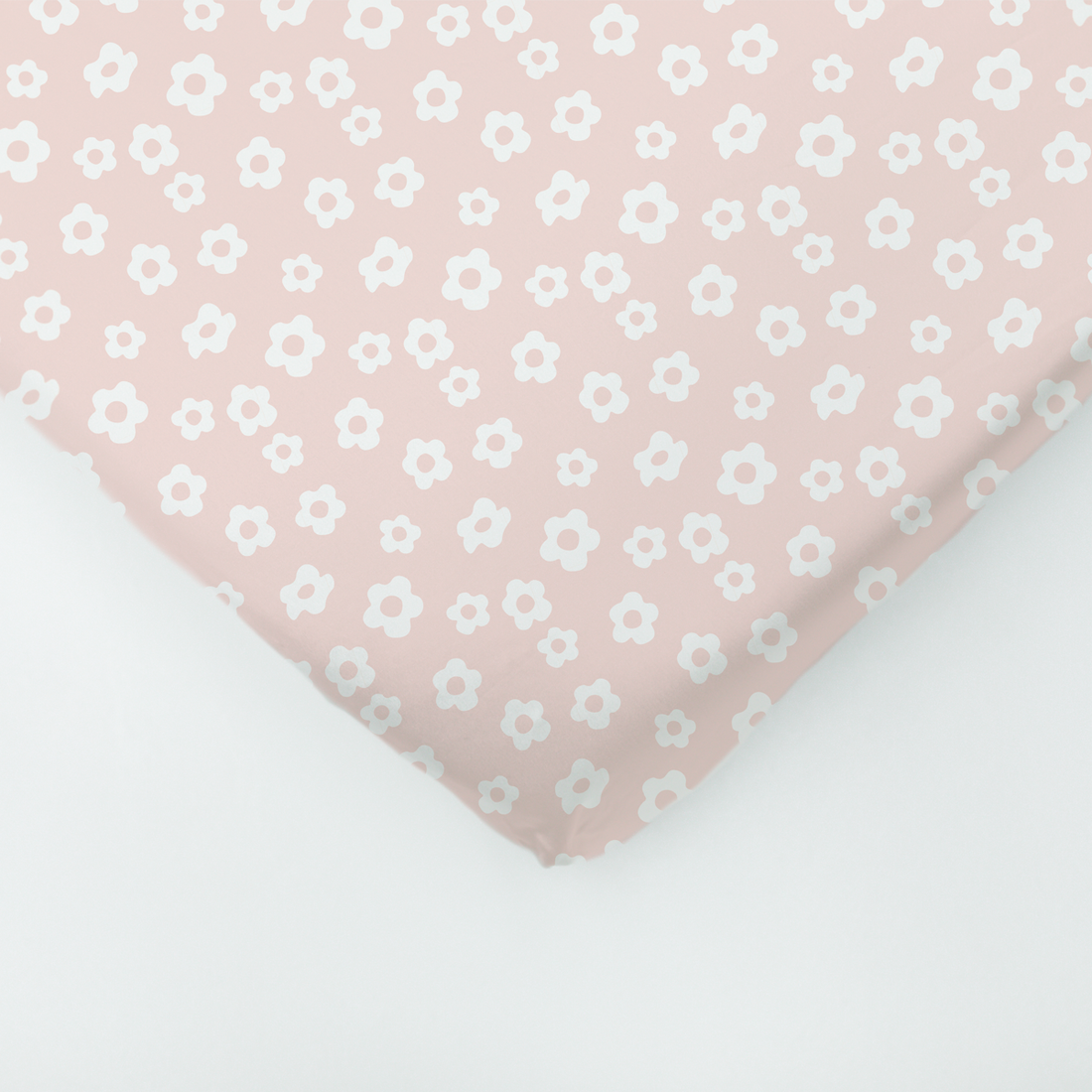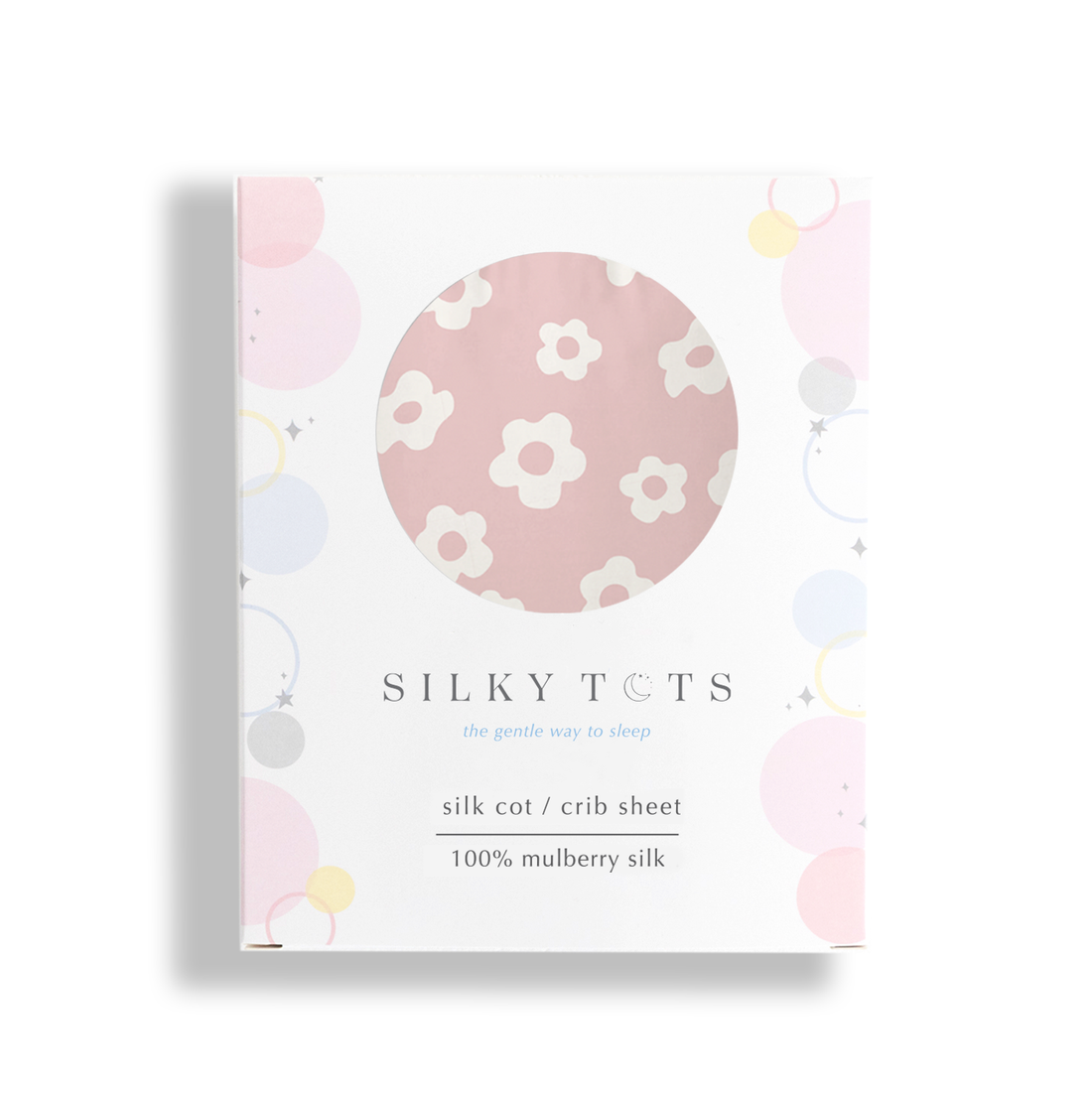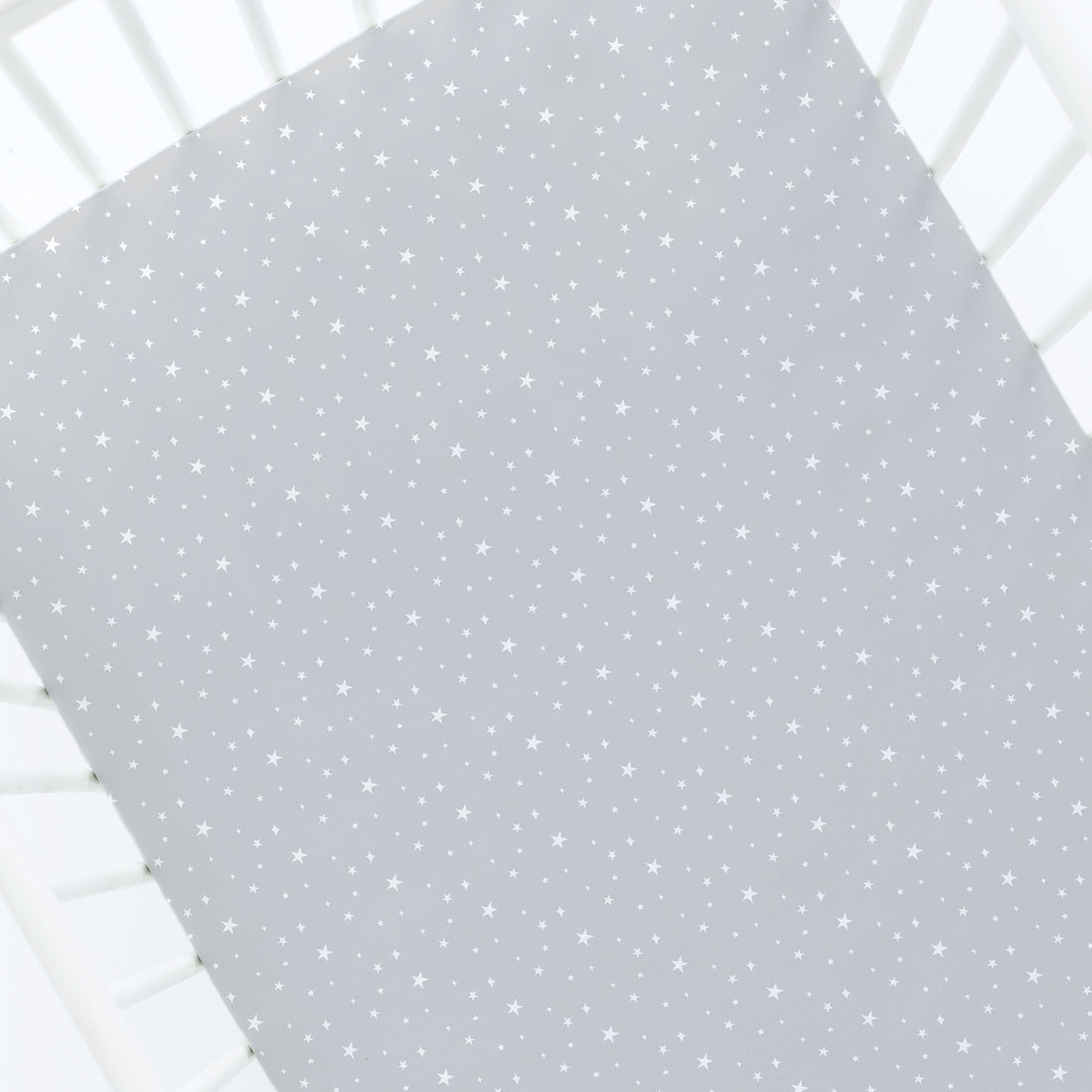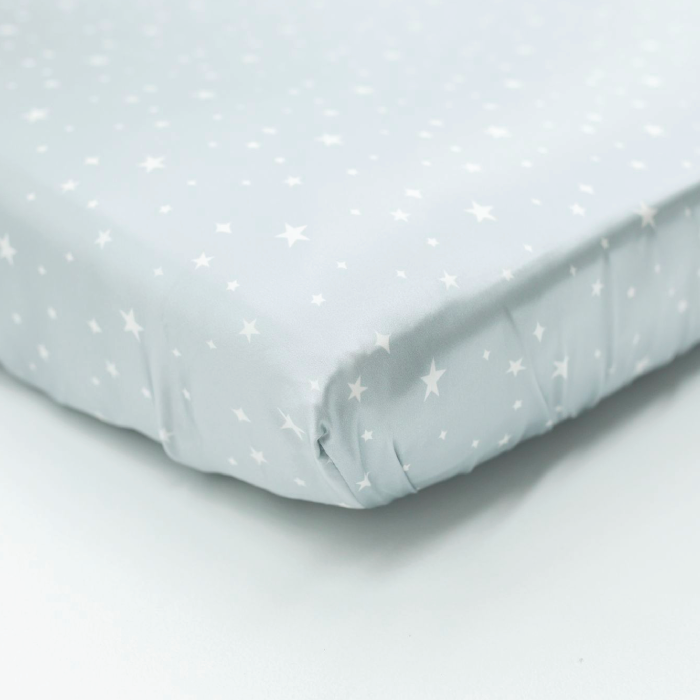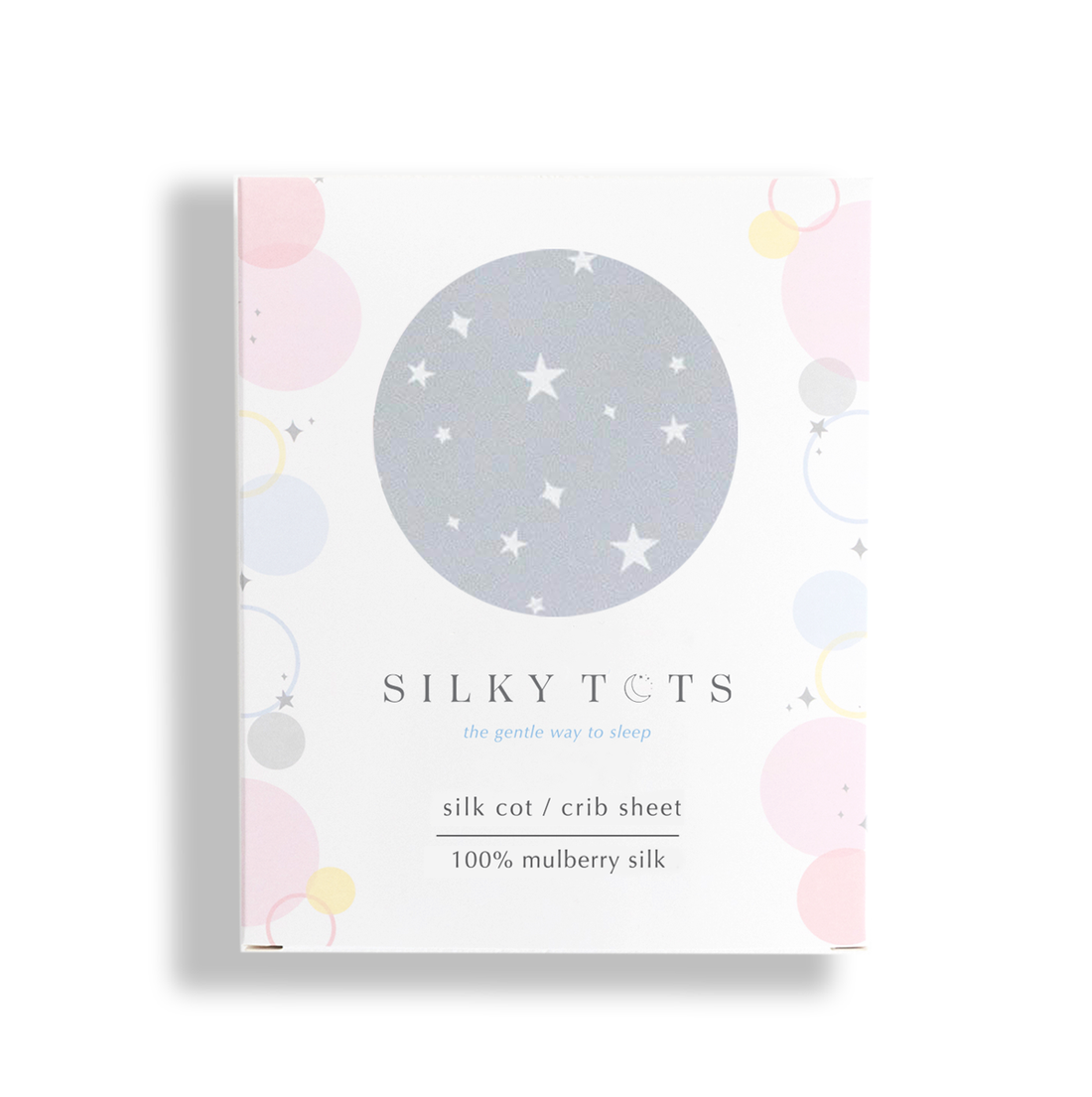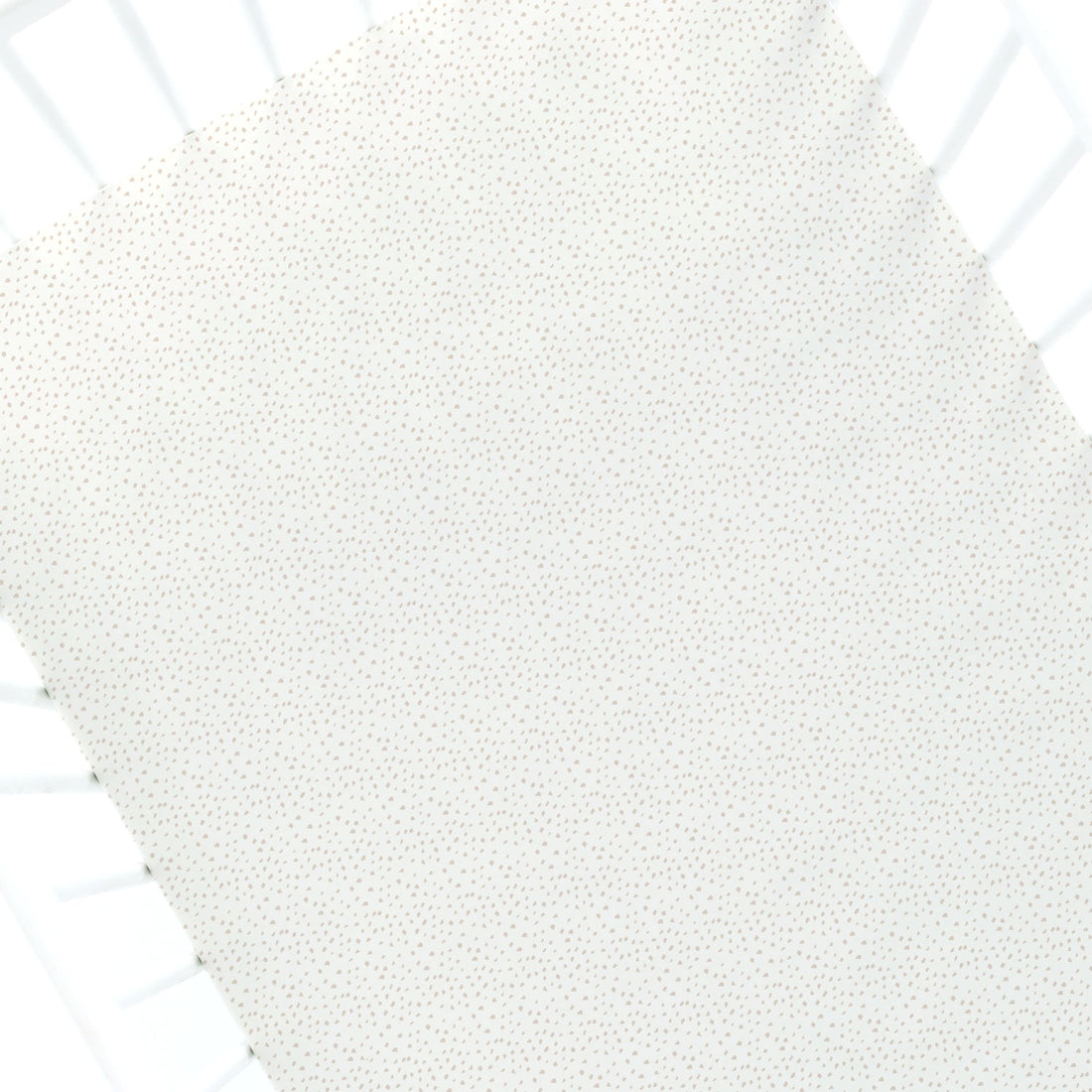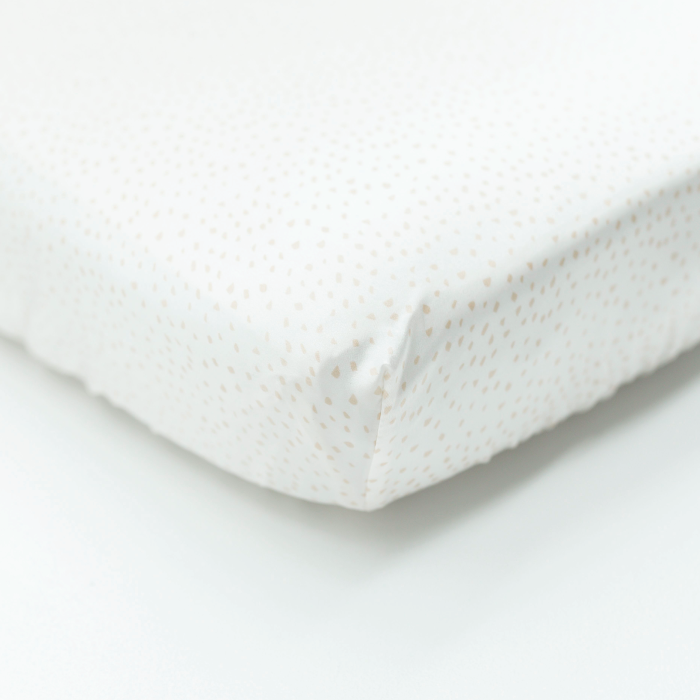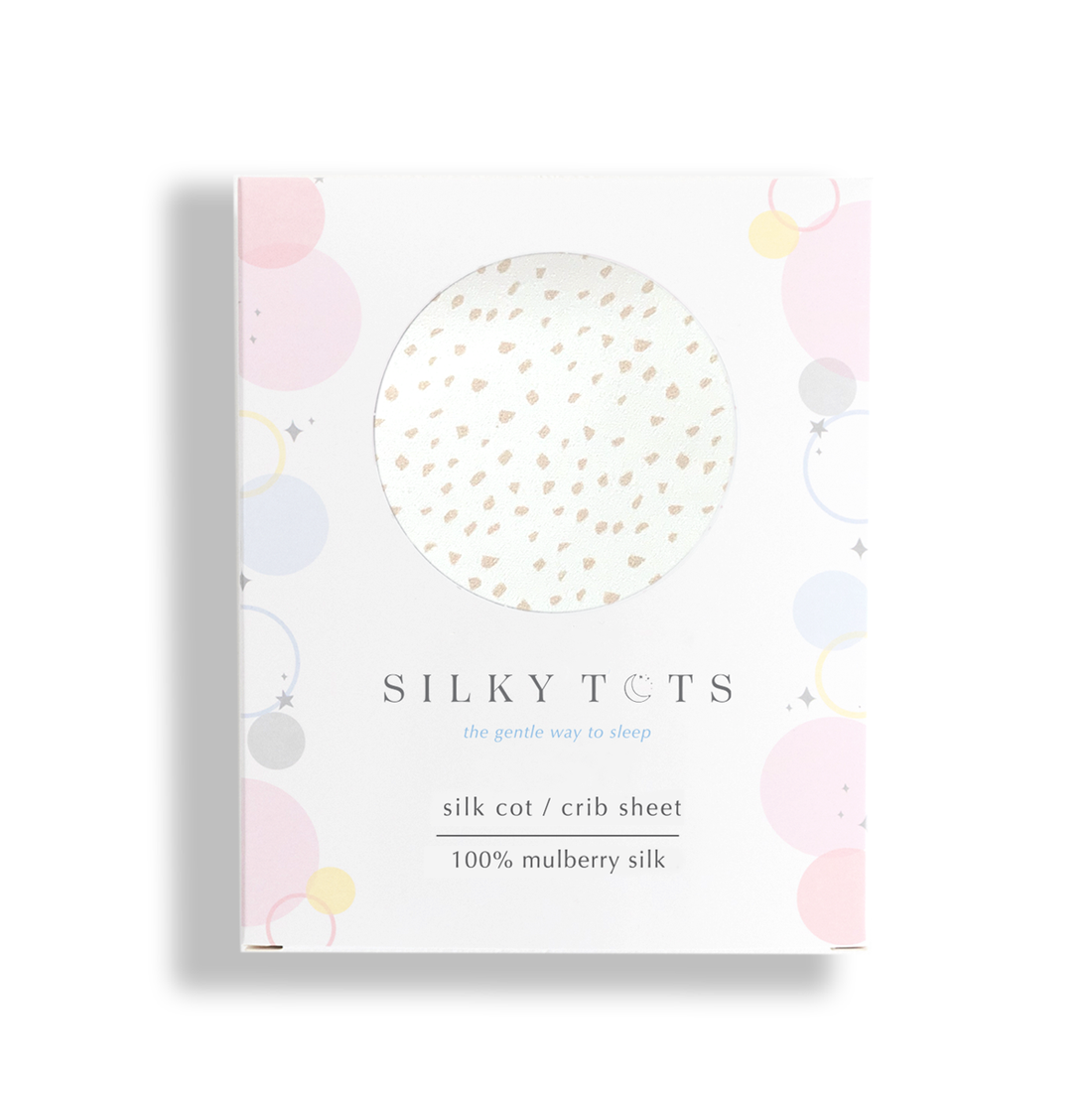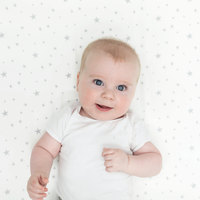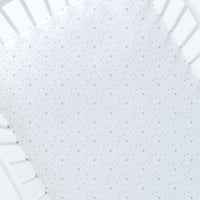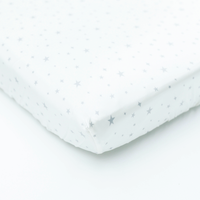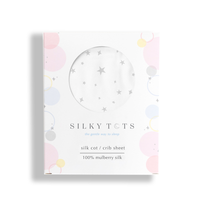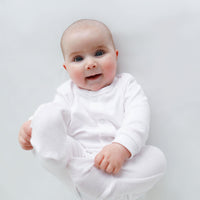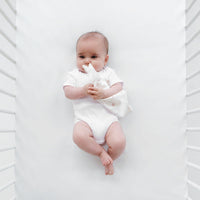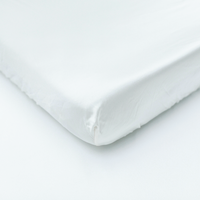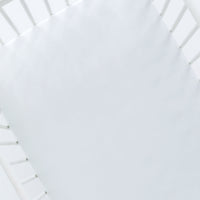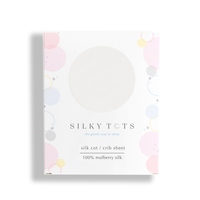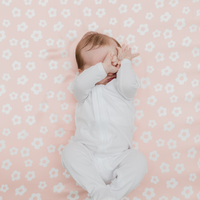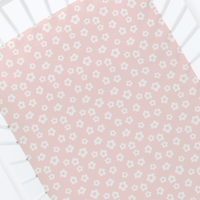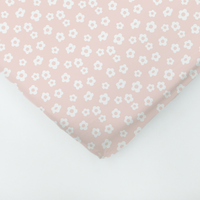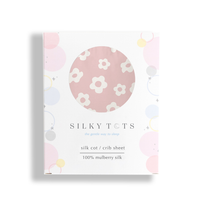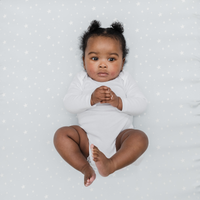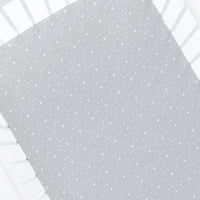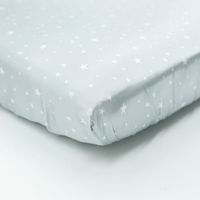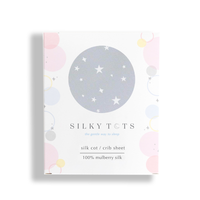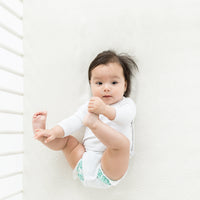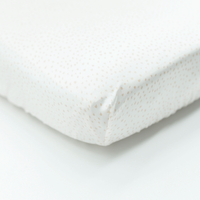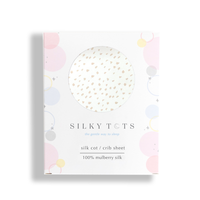 "Perfect. My son was losing his beautiful hair and since I got him the Silky Tot, that stopped and his hair has been growing back" - Valarie J.
Buy Now. Pay Later.
Wondering how to manage baby bald spots and knotty bed-head? The secret is soothing and protective 100% Mulberry Silk. 
Perfectly fitted to the crib mattress, your baby's head will gently glide across the liquid-smooth, hypoallergenic Silk Crib Sheet surface, reducing the friction that leads to knotting, matting and the dreaded baby bald spot.
Pure and natural Mulberry Silk is temperature regulating, uninhabitable by dust mites (perfect for allergy sufferers) and naturally hydrating (leaving precious natural oils in baby's hair and skin to do their job!).
Say good-bye to baby bald spots and make baby's crib a haven of restful slumber with our Mulberry Silk Crib Sheet.
Mini Cribs + Play Yards
Silk Mini Crib/Play Yard Sheets available HERE
Silk Crib Sheets help to:

Reduce friction, infant hair loss and knotting

Assist in the natural regrowth of baby bald spots

Retain baby's natural oils and hydration for glowing skin and hair

Regulate baby's temperature: keeping them cool in summer; warm in winter

Support management of asthma and dust-mite related allergies

 
Sooth eczema and irritated skin

Promote a deep, comfortable and safe sleep for baby
Beautifully gift boxed

100% Mulberry Silk. 22 momme 6A grade

Fitted sheet;

52" x 27.5" x 7.4 

fits all standard cribs

Can also be used on oval cots

Oeko-Tex ® Standard 100 certified non toxic

Designed in Melbourne in line with SIDS safety guidelines

Machine Washable. Use a wool/silk/enzyme free detergent
Bassinets
We have 3 options for Bassinets; Silk Bassinet Sleeve, Silk Lounger/Bassinet Sheet and the Silk Snoo Sheet.
Can be adjusted to fit various mattress widths, from narrow bassinets like Moses baskets to wide co-sleeper mattresses such as the Next2Me. They can also be used on irregular shaped mattresses like the Halo bassinet. 
Popular Brands: Boori, Snuz Pod, Tasman Eco, Troll, Chicco, Tutti Bambini, 4Baby and Halo.
Not to be used on; The Stokke Sleepi Mini mattress.
Fitted sheet, designed to fit standard bassinet mattresses approx. 15.7" wide. Can also be used on Loungers such as the DockATot deluxe, more info below.
Popular Brands: Tasman Eco, Boori and Troll.
Not to be used on; Narrow bassinets e.g. the 'Snoo' or extra wide bassinets e.g. Next2Me or other co-sleepers.
Specifically designed to fit The Happiest Baby 'Snoo' mattress.
Not to be used on; Solely for use on the Snoo. 
Full Size Cribs
We have 3 options for Cribs; Silk Crib Sleeves, 100% Silk Crib Sheets + Half Silk, Half Cotton Crib Sheets
The Silk Crib Sleeves are a one piece band with a stretch panel on the back, allowing for it to be pulled over the mattress, insuring a snug fit. 
Popular Brands: E.g. Pottery Barn, Ikea, Tasman Eco, Boori, Stokke Sleepi, Newton + Nesting.
Not to be used on; Mini Cribs or Play Yards 
Fitted sheet made from 100% Mulberry Silk: 52" x 27.5" x 6.7".
Fits all standard cribs plus larger cribs like the Newton and Nesting.
Fitted sheet with 100% Mulberry Silk at the top and 100% cotton at the bottom. 52" x 27.5" x 6.7". 
Fits all standard cribs plus larger cribs like the Newton and Nesting
Mini Cribs + Play Yards
We have two options for Mini Cribs + Play Yards; 100% Silk sheet + Half Silk, Half Cotton Sheet.
Fitted sheet; 39" x 27" x 4", fits all standard travel cots.
Popular Brands: Bugaboo, Pack & Play and Nuna.
Do not use Silk Crib Sleeves on any mini crib mattresses.
Loungers/Bed Nests
Our fitted Lounger/Bed Nest Sheets are designed to fit loungers approx. 31.5" x 17.5" x 4.8 They can also be used on bassinet mattresses approx. 16" wide.
Popular Brands: fits the DockATot Deluxe and SnuggleMe infant and other standard size loungers.
Not to be used on: Cushii, Purflo, Budnest, Bubba Bump, Cocona baby and Giefrne loungers.
Prams
Our Silk Head Supports are a 2-in-1 design, and can be used individually or together. They fit any standard pram or stroller and can also be used in baby seats and bouncers.
Pillows
Our standard Silk Pillowcases are 19" x 29" and fit all standard sized pillows.
We also offer Silk Toddler Pillows which are 11.8" x 15.8" and include a low profile, super soft pillow made specially with little heads in mind.
☆☆☆☆☆ AMAZING Silky Tots is quite simply AMAZING! I started using my Silky Tots when my little one was a newborn and I noticed little hairs on his bassinet sheet after naps. The sleeve helped immediately, he was the only bubba in mother's group without a bald spot! We now have the gorgeous mist coloured sleeve in his big boy cot and are still enjoying a bald spot free existence! Thank you Silky Tots! xxx - Natasha N.
☆☆☆☆☆ We LOVE our silk cot sleeve, we have been using it for about two weeks now and Vivienne's hair has started to grow back and the bald area has nearly gone. Before we started using the silk sleeve Vivienne would wake up with a very dry face and I'd have to put moisturiser on her everyday, since using the silk sleeve her skin has become so soft and it's never dry! Amazing xx - Vivienne Z.
☆☆☆☆☆ I am so THRILLED with how well this pillowcase is working. Ever since my 3 year old daughter has been sleeping on it, she has no more fuzzy, broken hairs when she wakes up! And no more hair brushing battles in the mornings. Big win!! - Arianna B.
☆☆☆☆☆ Amazing product that has cured baby baldness! This product is great. Not only is it safe enough to be around your baby but it has cured her baldness in only a couple of weeks! - Lauren I.    
 More verified customer reviews at bottom of each product page or click HERE.
We pride ourselves on excellent customer service and speedy delivery. All orders will be dispatched from our Californian warehouse within 24 hours, with the exception of weekends and public holidays, where they will be sent the next business day. You will receive an email with tracking information once your order has been shipped. 
International: Please ensure you are shopping in the correct region; we offer specific Silky Tots sites for AUS (and NZ), USA, UK, EU and Asia. These sites offer the cheapest and fastest shipping options for your region.
Estimated delivery times (please allow for possible delays due to Covid 19 restrictions.
USA + CANADA
Free shipping is available on all orders over $100. $6 flat rate on orders under $100.
We ship with USPS. Delivery can take 1-10 days depending on location.
Priority Shipping is available for $10
UAE
$15 with USPS. Delivery is approx. 10-14 business days. Free on orders over $200.
Priority Shipping (UPS) is available for $40. Delivery tims is approx. 7 days. Free on orders over $300.
Returns
We are happy to fully refund/exchange any unused items within 30 days of purchase. Please contact hello@silkytots.com for the return address (US warehouse), should you wish to return/exchange an item.
Please note:
Returns can be accepted if the products have been opened to try for size etc. but must be unused, clean and returned in the original box, so please take care when opening.
Return shipping charges and materials are your responsibility unless the product is faulty. 
REAL RESULTS
Bye-bye Baby Bald Spots & Dry Skin
100% Mulberry Silk is the answer to baby bald spots, bed-head and dry skin.
Sleeping on silk reduces the friction that causes infant hair loss, knotting and breakage and helps promote re-growth where bald spots already exist!
With over 800+ 5 ⭐️ reviews, our results speak for themselves!
READ OUR REVIEWS
The Benefits of Silk
Total 5 star reviews: 59
Total 4 star reviews: 4
Total 3 star reviews: 1
Total 2 star reviews: 0
Total 1 star reviews: 2
95%
would recommend these products
Customer-uploaded media carousel. Press left and right arrows to navigate. Press space or enter to open more details.
Slide 1 selected
Lauren B.

Verified Buyer

Reviewing

Silk Crib Sheet

Big difference

My 7 month old son's hair is very delicate and he tends to shake his head back and forth as he settles in to sleep. His hair was constantly breaking and short at the back and sides where it would rub on the muslin sheet. We got the silky tots and it helped right away. Within a week or so I could see that his hair was growing in better.

Tessie S.

Verified Buyer

Reviewing

Silk Crib Sheet

Amazing product!

My son has been struggling with eczema on his face since he was 6 months old, he is now 10 months old. A friend recommended trying a silk sheet in his bed and after a little research I decided to try this company out. I was highly impressed with the quality of the sheet and my overall experience messaging the owner. The sheets are 100% breathable and so soft! My son has been using the silk sheet for about 2 weeks now and his face already looks 99% better! He doesn't have bad flare ups when he wakes up from a nap or from bedtime. I would definitely recommend this product. The picture of him not smiling was taken at the beginning of September. The other one was taken a couple days ago.

Michael B.

Verified Buyer

Reviewing

Half Silk Crib Sheet

Love the products

Already seeing a difference in a few weeks!

Michelle D.

Verified Buyer

Reviewing

Half Silk Crib Sheet

I do not recommend this product

Did not work

Really wanted this to help (especially with all the good reviews) with my little one's bald spot but it didn't.

There's a reason why they don't have a better return policy. Should have just bought one now I'm stuck with these expensive sheets I can't even put in the wash. Super disappointed and would not recommend! Just let your little one's hair run its course.

Angela Johnson R.

Verified Buyer

Reviewing

Half Silk Crib Sheet

5 Stars

My daughter has a head full of hair. Every morning we would find so many little hairs on the crib sheet and since changing to silky tots we have not seen anymore hair in the crib. It's been about 5 days.
Reviews Loaded
Reviews Added